Kevlar Cords Timing Belt With Triangular Profile
Kevlar Cords Timing Belt With Triangular Profile
Barbieri®Kevlar cords timing belt with triangular profile made of thermoplastic polyurethane, Kevlar rope core, wear-resistant and durable, stable performance, and can run smoothly under high load.
The Kevlar rope core can improve flexibility and reduce the weight of the belt. It will not be corroded. It is highly water-resistant and non-magnetic. If the system uses a metal detector, it will not hinder the system.
Triangle support profile using welding block processing equipment, the block is welded at the distance required by the customer on the back of the timing belt, and the connection between the timing belt and the baffle block is very firm.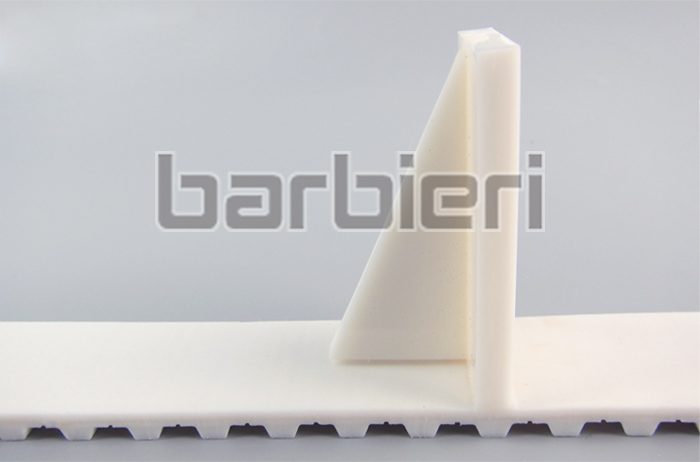 Different tooth types and different shapes of stoppers can be customized according to customer requirements.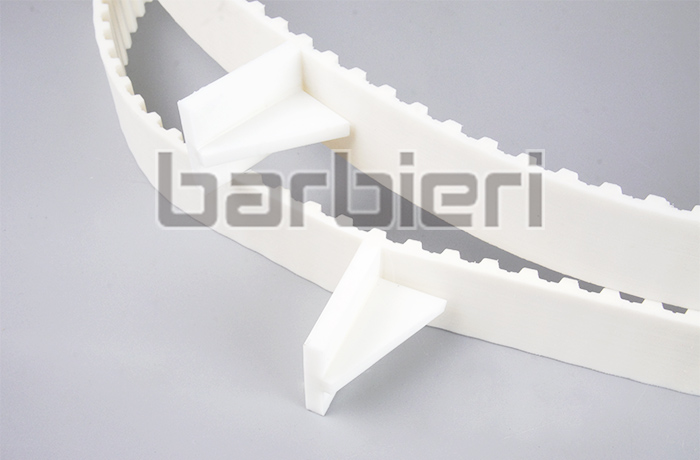 Barbieri®-J and Barbieri®-flex polyurethane timing belts can be designed with stoppers to meet applications in transportation, handling and positioning. The stopper is made of the same material as the timing belt to ensure maximum strength. Timing belts with stoppers can synchronize products with high speed and low noise.
We provide many kinds of stoppers for customers to choose from, and can develop timing belts with special-shaped stoppers. If the stopper you need is not listed, please contact us.
Barbieri® polyurethane belt having a highly wear-resistant, dimensionally stable, good welding characteristics, special specifications for welding stopper is used to meet a variety of production needs of the industry.
1.Single synchronous belt conveying: customize the size and spacing of the stopper according to the size and shape of the conveyed product, and install the stopper on a single synchronous belt for conveying;

2. Simultaneous conveyance of multiple synchronous belts: customize the size and spacing of the stoppers according to the size and shape of the conveyed product, and install stoppers on multiple synchronous belts for synchronous conveying;

3. Accurate positioning and transmission: When the equipment needs to be sensed at a certain distance, install the stopper according to this distance to achieve accurate sensing effect, such as the conveyor belt of the inkjet printer;

4. Timing belt stopper installed with screws: a stopper with single or multiple nuts can be welded on the back of the timing belt, the nuts will not fall, and the positioning is accurate;

5. Special purpose is needed when the machine is used: various kinds of special stoppers can be developed and produced according to the design requirements of customers.